Copy of about 2 page for use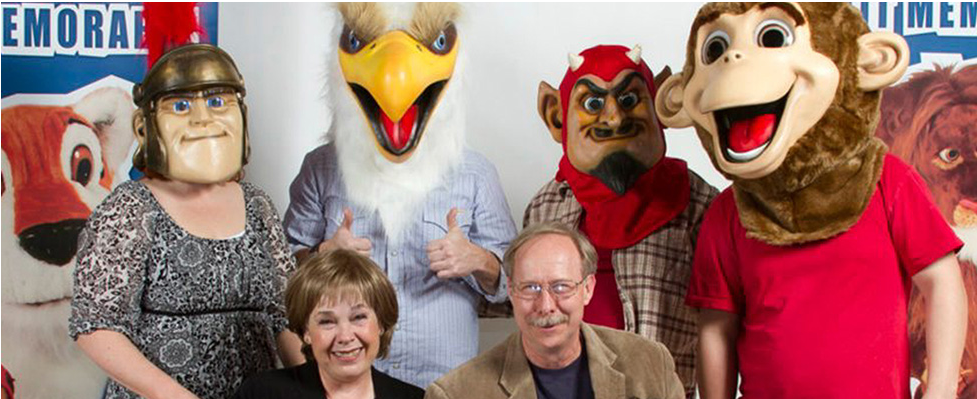 The remarkable, but humble history of Alinco Costumes began in 1889. In that year, the Salt Lake Costume Company was founded in order to supply costumes for local stage productions. About this same time, mascots were beginning to find their place in sporting events at colleges and universities across the nation. However, these mascots were real animals that required feeding and care. It would be another 61 years before Alinco Costumes would help revolutionize the concept of mascots.
In 1946, Clifford Franklin Allen purchased Salt Lake Costume which had been in business since 1889. Together with his family, Clifford took the company to new heights, assembling over 20,000 rental costumes. This move established Salt Lake Costume as the primary supplier of Halloween and novelty items in the state.
In the 1950's, Salt Lake Costume began producing "Parade Heads." These oversized costume heads were widely used in parades of the time. They would later influence mascot concepts and techniques.
During the 1960's, high schools and colleges in the state and around the nation, began to realize the advantages of using a costumed character for a mascot.  As a result, Salt Lake Costume began creating custom mascot costumes.
In 1961, a subsidiary of Salt Lake Costume was created. This subsidiary was called Alinco Display & Associated Arts. Within this division, Salt Lake Costume began to focus on the production of mascot costumes.
In 1963, at the age of 16, Clifford Allen's son, Terry, created his first mascot head. He also began developing the skills and techniques that would later become the foundation of Alinco Costumes.
In 1974, KGB Radio, a San Diego based rock and roll station, asked Salt Lake Costume to create a chicken costume for promotional use. The suit was worn by Ted Giannoulas, who went on to create The Famous Chicken. The Famous Chicken was also commonly known as The San Diego Chicken.
During 1977, Terry Allen, with his wife Lowla, purchased the Alinco division of Salt Lake Costume and created Alinco Costumes. With only two sewing machines, an assortment of molds and techniques, and the Alinco Costumes name, they created what would become the world's largest manufacturer of mascot costumes.
Since 1977, Alinco Costumes has created numerous mascots for clients such as the Arizona Diamondbacks, the Seattle Seahawks, Ask Jeeves, Nestle, Disney, the Phoenix Suns, and the Chicago Bulls. They have also created over 50% of the team mascots for the NBA. Alinco Costumes custom mascot costumes have appeared in commercials and movies, such as Disney's "Go Figure," "Big Momma's House 2, Disney's "The Cinderella Story," "Dumb and Dumberer," and "Any Given Sunday."
Alinco Costumes has been an integral part of the history and development of mascots for parades as well as team mascots. This is due to their long history in mascot design and mascot costume development from their early oversized characters to the acrobatic performance mascots of today.
This is what makes the Alinco Costumes team mascots and parade mascots different than "other" custom mascot costumes that are on the market today. They truly are the best handcrafted mascot costumes money can buy!